Pedestrian Easy-Gate - Installation
This page includes information about the installation of the Pedestrian Easy-Gate. Information about design and technical specification is also available.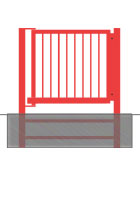 Easy-Gate arrives packaged as a rigid one-piece unit.
A trench is excavated approximately 1500mm long x 500mm deep x 400mm wide.
The unit is placed in the trench and using a spirit level is plumbed on both horizontal and vertical planes.
Concrete is placed around the unit (a strong wet mix is recommended) and allowed to set.
The two fixings connecting the gate to the closing post are removed. The gate is now fully operational.
THAT'S ALL THERE IS TO IT!
Because of Easy-Gate's unique design there is no possibility of twisting or misaligned posts.
The recommended speed of closure from 90-degrees is 4 - 7 seconds.
It couldn't be simpler.

An Installation Guide for the Pedestrian Easy-Gate is available in PDF format.